We Seem To Be Drifting Apart – English
HOOB records – pressrelease: 
Nils Berg Cinemascope releases their fourth album We Seem To Be Drifting Apart – a mixtape on vinyl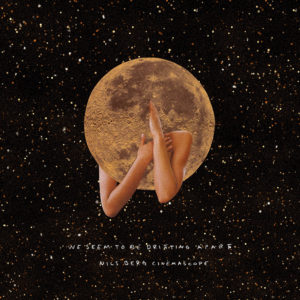 Track listing Side A: Now Or Never (1) Hjärtats Sång (2) Hips Don't Lie (3) Bönder på havet (4) Richter Sonntag (5) Drug Stories (6) End Time Ministry (7)
Track listing Side B: Alex Dream (8) Get On With It (9) Party Watcher (10) Friendly Fire (11) The Missing Piece (12) You Can't Go Home Again (13) Oh John (14)
---
NILS BERG CINEMASCOPE
WE SEEM TO BE DRIFTING APART
Improvised soul ballads, Morocco's first female guimbri player and recordings from Mozambique, California and Oslo. 
Studio Rymden, 11:17 November 29, 2017.
– Do you want to give that Vocoder thing a go?
– What music should we play?
– Don't know. Let's just play. I'll sing and you play the keys, kinda?
– Ok…?
– Tape is rolling.
Five minutes later the opening track Now Or Never is recorded. An improvised soul ballad, a moment from the suburban Stockholm studio captured in sound waves.
We Seem To Be Drifting Apart, the fourth album from Nils Berg Cinemascope, has taken the band nearly one and a half year to complete. Since the debut 10 years ago this world touring band has built their repertoire on colliding musical video clips from YouTube with new compositions. Sure – there are traces from YouTube to be found on this new record too, and the concert audience will recognize the cinematic setting with a movie screen behind the musicians. But We Seem To Be Drifting Apart has become a universe of its own, a continuum of sounds, a mixtape on vinyl where soundscapes melt in and out of each other and melodies and sound textures decide where the music is heading, rather than any borrowed voices.
After the opening spontaneous composition we surf right into Hjärtats sång (The Song Of the Heart). Here the trio makes a new friend in Morocco's first female guimbri player – Asmaa Hamzaoui, a musician breaking new ground with her three-stringed bass lute. Asmaa and Nils Berg Cinemascope shared the stage in Bern, Switzerland a year ago – and the band returned to Stockholm with Asmaa's soulful guimbri playing on tape.
Like a silver thread running through the narrative, the journey itself turns into a theme – suddenly we're in Mozambique, in the middle of a prayer meeting. And, moments later in an indian rehearsal space, Zanzibar bazaar or a living room in Oslo.
The final number – We Seem To Be Drifting Apart becomes the conclusion of the album. It doesn't really matter if the woman speaking to us addresses the continental drift, big politics or her own marriage – the song becomes a recap of what the listener has experienced. Constantly moving, from song to song, between genres and moods, exposed to sudden winds from all directions, we've been forced to movement.
Our security and vessel is three musicians who have been creating music together for 10 years. A band and a sound that sits deeper for each time you hear them. And Nils Berg's grounded compositions, both sentimental and hopeful.
We Seem To Be Drifting Apart is produced by Nils Berg and Christopher Cantillo.
Nils Berg – Woodwinds, Whisteling, Keyboards, Compositions
Christopher Cantillo – Drums, Vibraphone, Percussion
Josef Kallerdahl – Double Bass
Guest appearances by Asmaa Hamzaoui (Guimbri), Johan Graden (Piano, Mellotron) and Daniel Ögren (Guitar, Synth)
We Seem To Be Drifting Apart
Nils Berg Cinemascope
Record no: HOOBLP(CD)076
Distribution: Border / The Orchard
Release date: May 22
[c] & [p] HOOB records 2019
Photo: Miki Anagrius
Cover: Sofia Sjögren / Erik Olovsson
SINGELVIDEO – NOW OR NEVER
LADDA NER ALBUMET SOM MP3
LADDA NER PRESSRELEASEN SOM PDF
KLICKA PÅ BILDERNA FÖR ATT LADDA NER